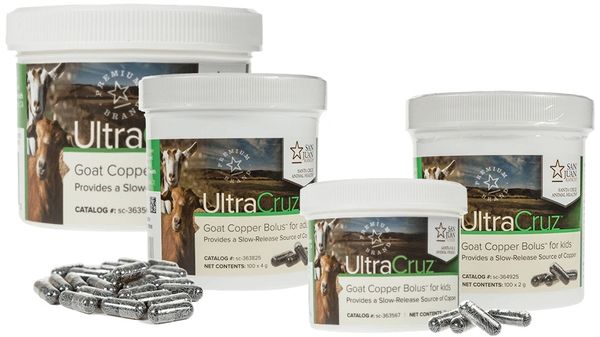 Goat Copper Bolus
UltraCruz® Goat Copper Bolus
Slow-release Copper bolus for all goats
Supports healthy growth and coat
Supports immune system
Boluses for Adults and Kids available.
 UltraCruz® Goat Copper Bolus
is an excellent source of slow-release Copper designed to provide all goats with this essential trace mineral in order to support a healthy hair coat and proper growth as well as aid in the prevention of Copper deficiency. These convenient, long lasting boluses contain Copper Oxide particles for the prevention and treatment of Copper responsive conditions in goats. Under most conditions, these boluses provide between 8 and 12 months of sustained Copper supplementation. Copper deficiency is a common problem in goats, therefore these boluses are especially beneficial for goats living in Copper deficient areas.
Copper (Cu) is an essential trace mineral required for production of normal connective tissues including tendons, ligaments, cartilage and bone. Copper is also involved in producing skin and coat pigments, in proper nerve signaling and the absorption and utilization of Iron. Copper deficiency in goats can result in poor hair coats, reduced growth, reduced fertility and impaired immune system function.
Copper deficiency can occur in all goats, regardless of breed or gender. The cause of Copper deficiency can be anything from a Copper deficient diet (such as alfalfa), to water with abnormally high levels of Sulfur (which reduces the availability of Copper in the body), or living in Copper deficient regions.
These high quality, Copper boluses ensure that your herd is getting the right amount of Copper to keep your goats strong and healthy. When the bolus reaches the stomach, the gelatin capsule quickly dissolves to release the Copper particles which then imbed in the rumen to slowly release copper.
This product is for use in goats only. Do not administer to sheep. Goats up to 3 months of age and weighing up to 50 lbs should receive UltraCruz® Goat Copper Bolus for kids. Goats over 3 months of age and weighing over 50 lbs should receive UltraCruz® Goat Copper Bolus for adults.
Guaranteed Analysis: Per recommended amount (Kid: 1 bolus; 2 g) (Adult: 1 bolus; 4 g):
Ingredients: Copper Oxide, Gelatin (capsule)
Directions for Use:
Seek the advice of a veterinarian or goat husbandry specialist to ascertain copper status and the type of supplementation required for goats under consideration.
Kids: Goats up to 50 lbs bodyweight and under 3 months of age: 1 (2 g) capsule. A single dose typically lasts 8 months to 1 year.
Adults Goats: Goats over 50 lbs bodyweight and over 3 months of age: 1 (4 g) capsule. A single dose typically lasts 8 months to 1 year.
Administer the capsule orally with a suitable balling gun. To be effective, capsules must be swallowed. Administer only intact capsules. Do not crush or break.
Under most conditions, readministration will not be necessary for at least 12 months. Excessive levels of molybdenum, selenium, sulfur, or iron in feed or water may impair copper absorption.
Recommended For: Recommended to provide a slow release source of copper.
Storage: Store in a cool (below 85°F), dry place. Protect from sunlight.
Do not administer to sheep. Do not administer to goats of unknown copper status or those supplemented with other sources of copper.
UltraCruz® Goat Copper Bolus should not be administered to newborn goats. Copper toxicity in neonates has been reported. Do not use in goats suffering from jaundice or any other liver disorder.
Check out the PillGun or Bolus Gun for dispensing the copper boluses.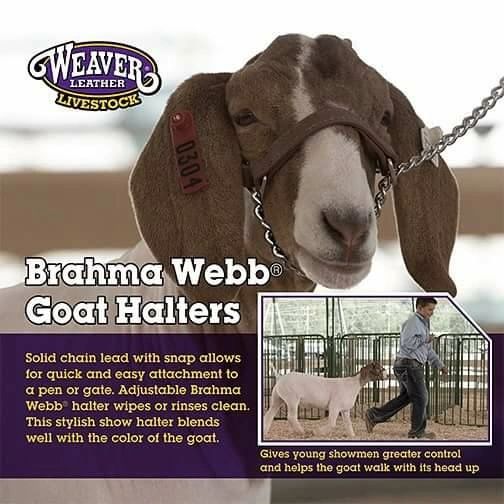 Brahma Webb Goat Halter
$21.00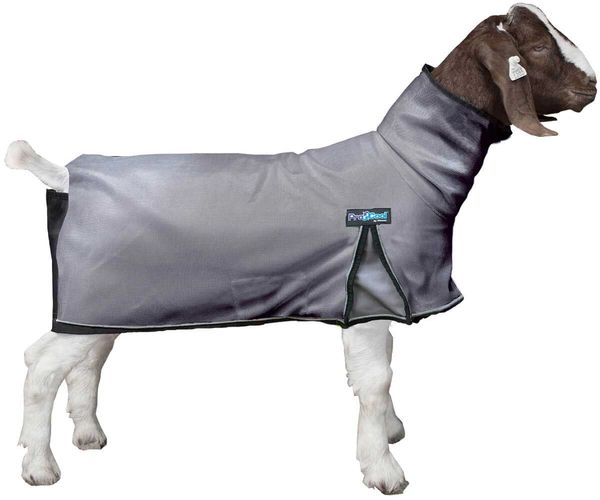 ProCool Goat Blanket
$48.00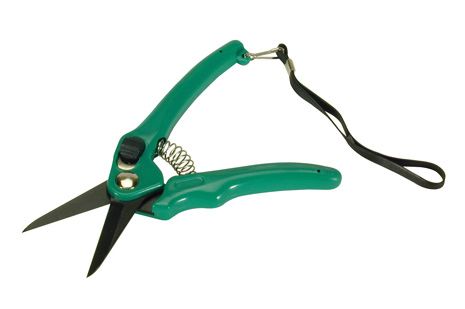 Hoof Trimmers
$22.75